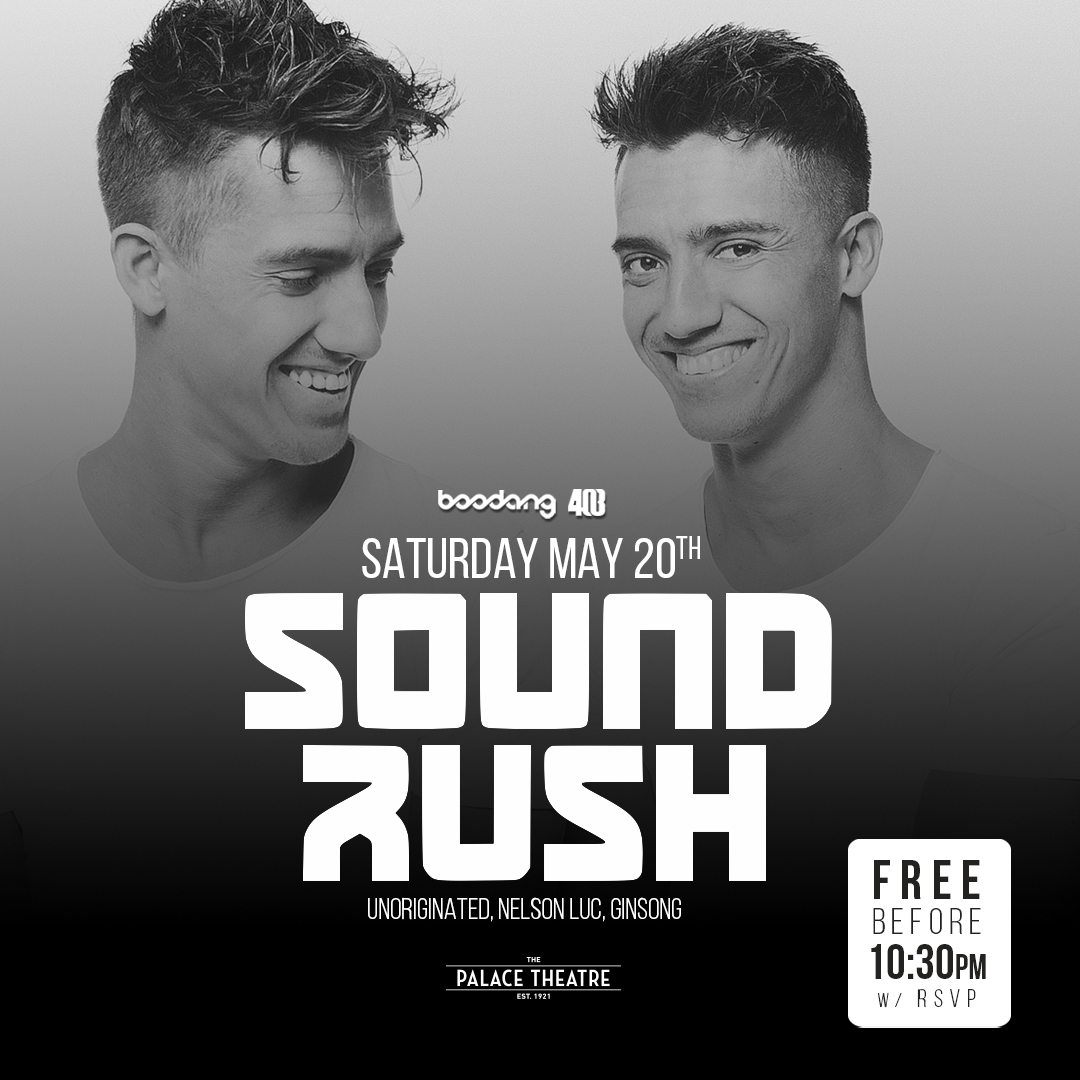 Sound Rush- Calgary

| | |
| --- | --- |
| | May 20, 2023 |
| | 9:00 pm |
| | Calgary, Canada |
| | The Palace Theatre |
| | Google Map |
RSVP (FREE)
Sound Rush is a Hardstyle duo from The Netherlands and is evidently recognizable for consisting of identical twins. The euphoric spirit of their creative design emanates from tantalizing melodies and fresh vocals. By honoring their roots as a substratum from which they reach into the future, Sound Rush conveys a balance between two dimensions – radiating elements of authenticity within a high-tech environment.
All becomes ONE
Deeply interconnected as twins, Sound Rush operates as a singular force inside the studio as well as on stage. This essential feature is keenly expressed through their unique approach, branded as ONE. It manifests itself in myriad forms, characterizing the fashion in which Sound Rush travels the landscape of Hardstyle. Be it the duo's symbiotic dynamics, the immersion in their passionate community or the signature track that they created together with Villain – all of these tokens lead back to preaching unity and becoming ONE.
From the studio…
Since the inception of their endeavor, Sound Rush has compiled a rich catalogue and established strong affiliations along their path. A number of creative landmarks stand exemplary for their swift rise through the ranks. One of them is Sound Rush's stellar remix of the track Project 1, that was showcased by Project One at Qlimax 2016 as part of their legendary live performance. The doors that opened for the twins as a result of this, led them to host the graceful HARD with STYLE podcast in Headhunterz' absence, rewarded upon his return with a joint effort in the form of the chart-topping tune Rescue Me. These sweet developments also enabled them to appear on the unparalleled Art of Creation imprint and to become part of the core team, thus joining Headhunterz and Wildstylez. In 2018, the Look At Us Now EP marked the first Sound Rush release on the label, followed by Take It All in 2019. Keeping the scope as broad as possible, their recent collaboration with Psyko Punkz and DJ Isaac, titled Unbreakable, is yet another testimony of the future-focused destination that Sound Rush is navigating towards.
…to the stage
If you haven't been elevated by Sound Rush in a live-and-direct setting yet, chances are that it won't take long before you will be. The twins are featured on virtually all the standard-defining stages in the international realm of Hardstyle. From the very day that the journey of Sound Rush commenced, the ultimate purpose was to perform at Qlimax. In 2018 they attained this holy goal. To give a personal insight in the exciting process preceding and unfolding at the event, they created a crisp documentary – The Road to Qlimax. In reading between the frames, it undeniably crowned their efforts and inspired them to keep pursuing their dreams. One can only fathom to what uncharted regions it might lead them next.
A symbiosis of worlds is in full effect – Sound Rush delivers it to you, here and now.
Everything becomes ONE.