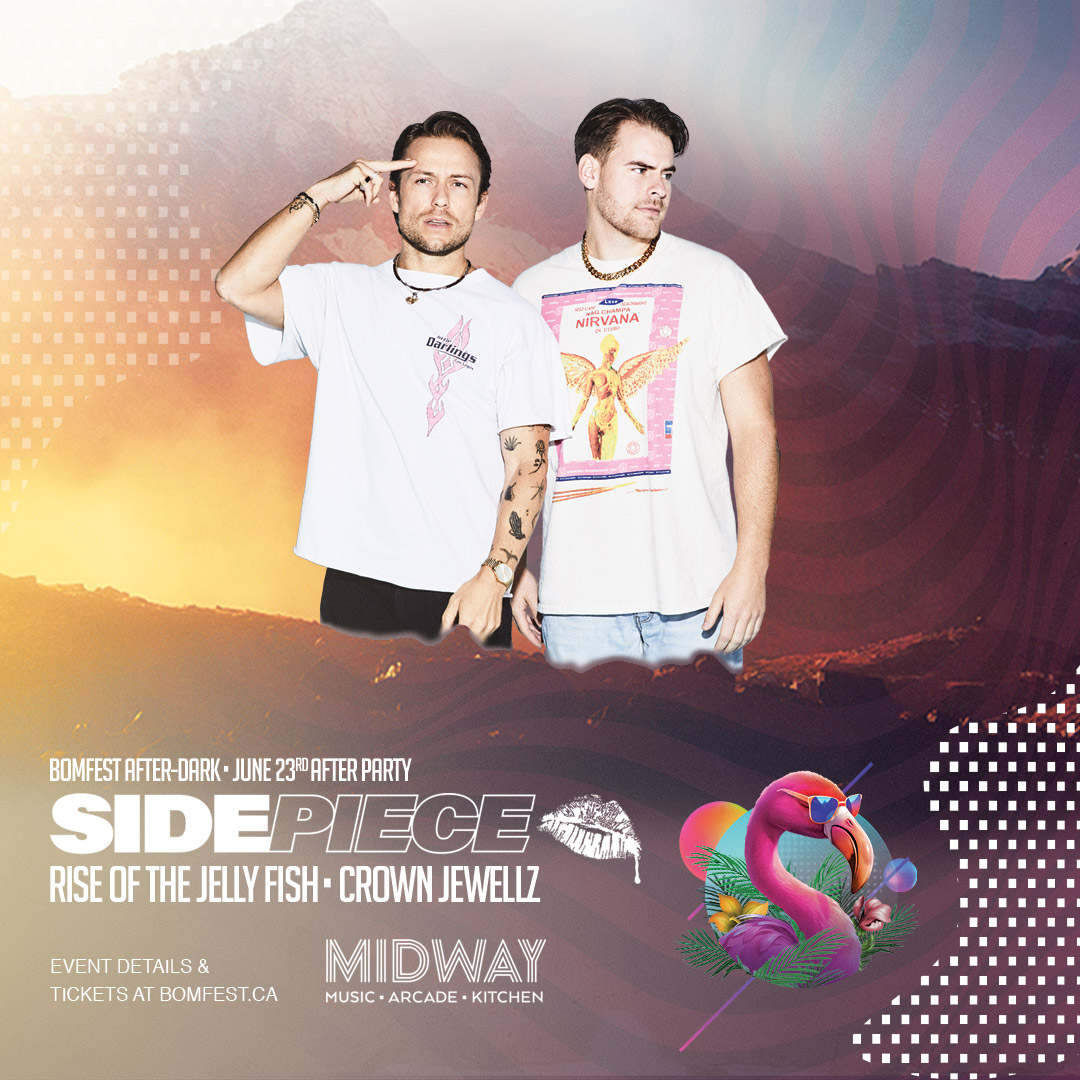 SIDEPIECE (BOMFEST AFTERPARTY)

| | |
| --- | --- |
| | June 23, 2023 |
| | 10:00 pm |
| | Edmonton, Canada |
| | Midway Music Hall |
| | Google Map |
BUY TICKETS
BOMFEST
Sidepiece is a dynamic DJ duo hailing from the electronic music scene. Comprised of two talented artists, they have quickly risen to prominence with their infectious beats and energetic performances. With a unique blend of house, tech-house, and bass music, Sidepiece has captured the hearts of fans worldwide.
Known for their distinct sound and seamless mixing skills, Sidepiece has made waves with their chart-topping releases and remixes. Their music is a fusion of deep, groovy basslines, catchy melodies, and captivating vocals, creating an irresistible atmosphere on the dancefloor. Whether it's in the club or at a festival, Sidepiece knows how to get the crowd moving and create an unforgettable experience.
Aside from their successful productions, Sidepiece has also made a name for themselves through their electrifying live performances. With their infectious energy and stage presence, they have shared stages with some of the biggest names in the industry. From sold-out shows to festival main stages, Sidepiece continues to captivate audiences with their unique sound and magnetic performances.
With their rapidly growing fanbase and impressive discography, Sidepiece is undoubtedly a duo to watch. Their passion for music and commitment to delivering unforgettable experiences make them a force to be reckoned with in the electronic music scene. As they continue to push boundaries and explore new sonic territories, Sidepiece is set to make a lasting impact on the industry.