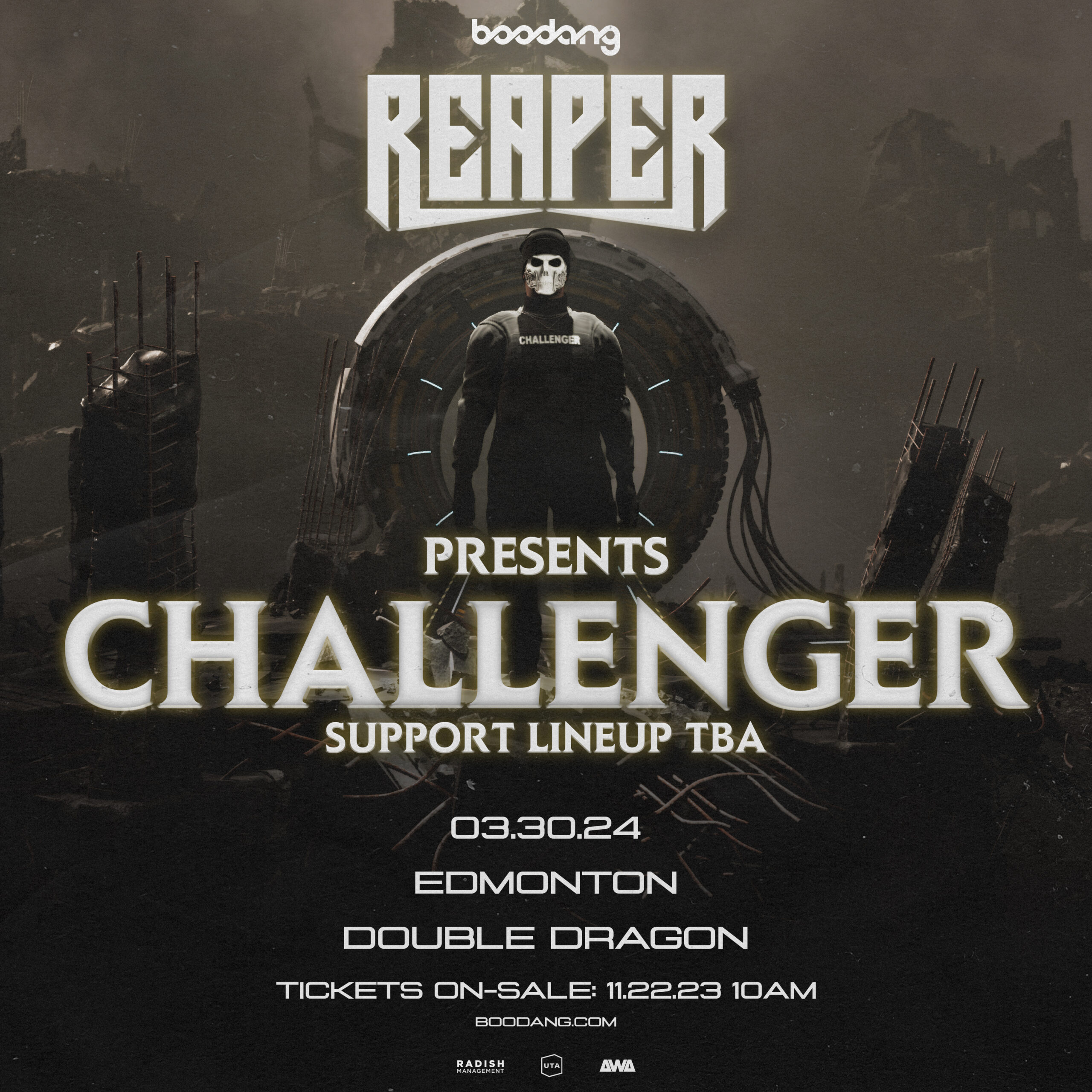 REAPER • Challenger Tour

| | |
| --- | --- |
| | March 30, 2024 |
| | 10:00 pm |
| | Edmonton, Canada |
| | Double Dragon |
| | Google Map |
BUY TICKETS
The "Reaper's Challenger Tour" is set to make a sensational stop in Edmonton on March 30th, 2024, at the famed Double Dragon venue. This event is a highlight in the tour of Reaper, the enigmatic and dynamic musician/DJ known for electrifying audiences worldwide.
Reaper, whose real name remains a mystery, has carved a niche in the electronic music scene with his high-energy performances and unique sound. Blending elements of bass, dubstep, and trap, his music is known for its pulsating rhythms and captivating melodies. He emerged on the scene with a series of explosive tracks that quickly captured the attention of both fans and critics alike.
Distinguished by his signature mask and a penchant for anonymity, Reaper adds an element of mystique to his persona. This anonymity allows his music to speak for itself, leaving audiences focused on the immersive experience he creates. His performances are not just concerts but multisensory journeys through sound, light, and rhythm.
The event at Double Dragon is expected to be a showcase of Reaper's latest tracks, mixed with fan favorites, offering a high-octane musical experience. Attendees can anticipate a night of relentless beats and an atmosphere charged with excitement. The "Reaper's Challenger Tour" is more than a concert; it's a celebration of the transformative power of music, promising to leave a lasting impression on Edmonton's vibrant music scene.
Sign-up for pre-sale by visiting: https://laylo.com/reapernoises/m/challenger
Tickets on-sale 11.22.23 at 10AM MST!
RSVP for the facebook event page here:
https://www.facebook.com/events/2177089515827636/?ref=newsfeed
Double Dragon
10524 Jasper Ave, Edmonton, AB T5J 1Z7
Doors at 10PM.