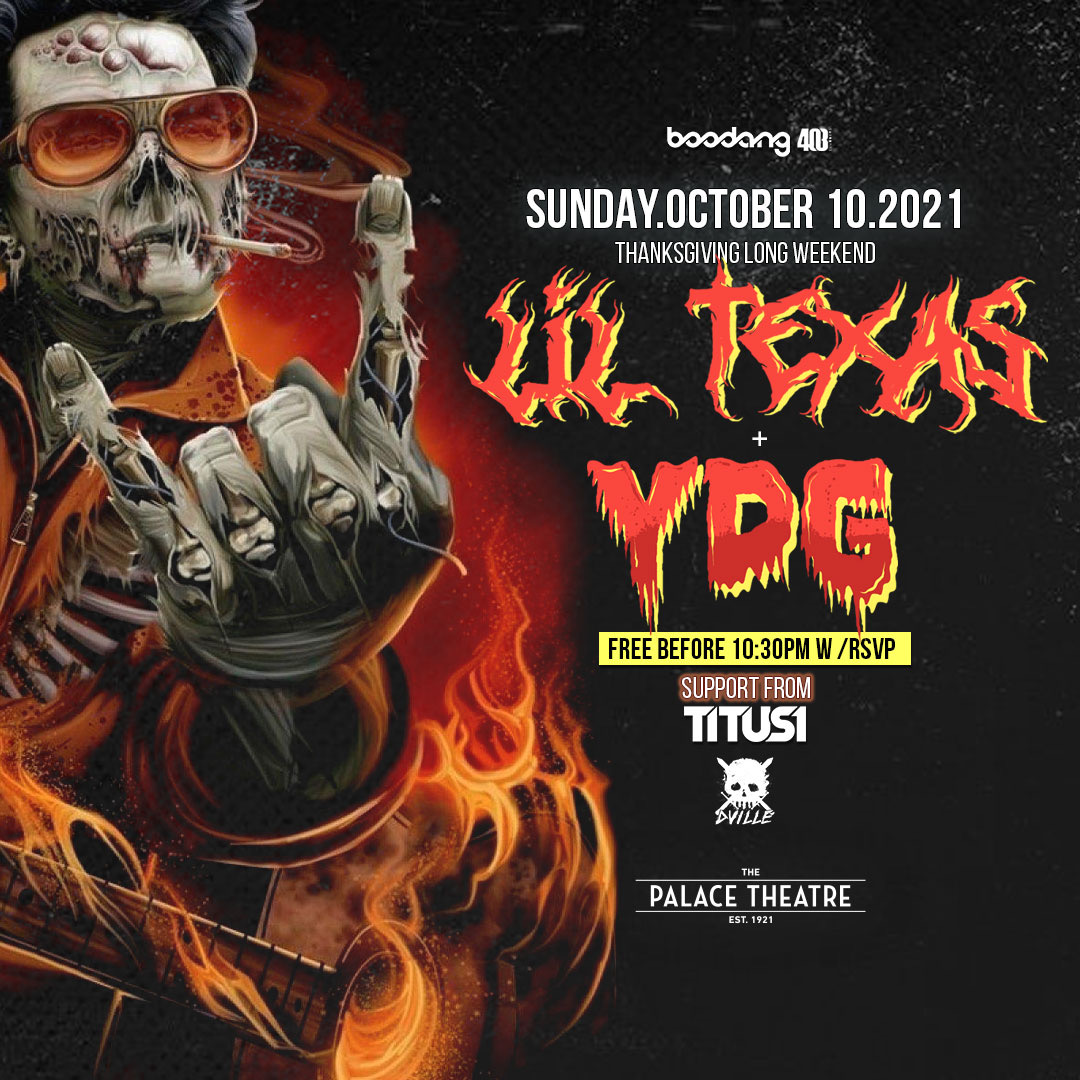 LiL Texas & YDG

| | |
| --- | --- |
| | October 10, 2021 |
| | 9:00 pm |
| | Calgary, Canada |
| | The Palace Theatre |
| | Google Map |
RSVP (FREE)
Enter the cult of speed with LIL TEXAS. Here for the underdogs and outcasts of electronic music, LIL TEXAS has inspired a groundbreaking movement for American hardcore. With his roots embedded in jazz and classical music, LIL TEXAS shifted from being a member of a band to creating his own artistic identity dedicated to the rave. In his own lane where 200 BPM is his resting tempo, the LIL TEXAS project serves as a culmination of his true passions, from fashion to culture and beyond.
LIL TEXAS made his hardcore debut with his original single "I AM EXCITED," introducing his uptempo hardcore sound to his audience of ravers and tastemakers from all walks of dance music. Met with immense success, LIL TEXAS' singles have been supported by Virtual Self, Kill The Noise, Pendulum, and many more. He's inspired artists who've never delved into hardcore before to join the TEXCORE movement, engaging their audiences in the most extreme form of dance music.
With the goal of establishing a voice for Ameican hardcore, the Western kink daddy himself has already infiltrated the scene with a vengeance: he made his hard dance debut at Basscon: Wasteland in 2018, followed by a slew of shows supporting artists such as Gammer, Junkie Kid, and more. As the American captain of 200 BPM, LIL TEXAS is motivated to make music that'll make you dance until you hit the ground.
"If you're ostracized, if you're fucked with, if you're the black sheep in the EDM community or your dance friends think you're weird for liking hardstyle or hardcore, I'm there for you." – LIL TEXAS