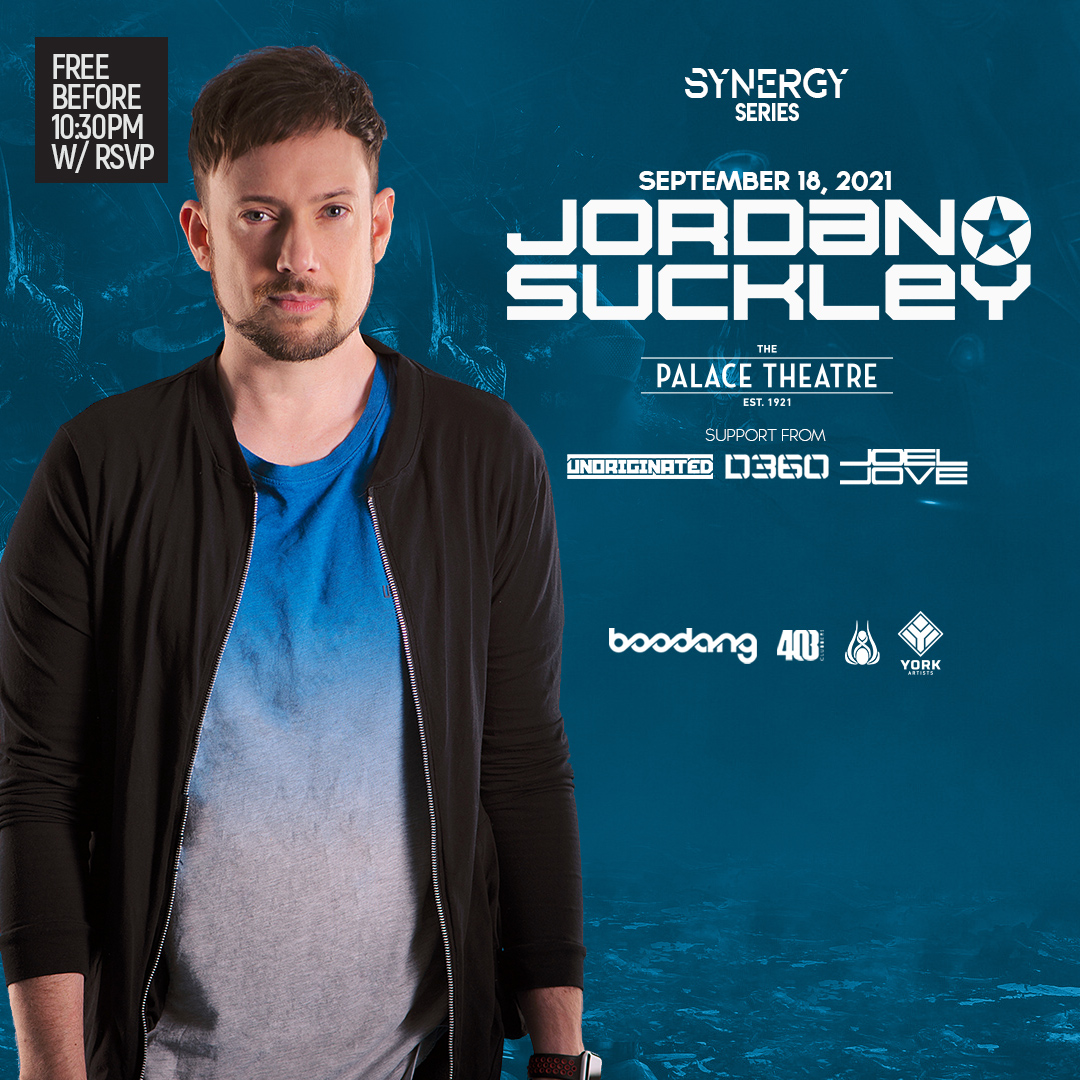 Jordan Suckley

| | |
| --- | --- |
| | September 18, 2021 |
| | 9:00 pm |
| | Calgary, Canada |
| | The Palace Theatre |
| | Google Map |
RSVP (FREE)
Jordan Suckley is a British Radio Host, DJ and Music Producer from Liverpool, England, who has composed and remixed notable tracks on albums that have reached No. 1 on the US iTunes Dance Charts. Jordan Suckley is known for consistently breaking through the ranks of established Dance Music charts around the world with his Trance tracks which have been championed by the genre's luminaries including Armin van Buuren and Aly & Fila.
When Jordan Suckley was 18, he attended Swansea University for a degree in business. While attending University, he entered in and won a DJ competition of the which the prize was playing at Cream in Liverpool. After his first set, Suckely began DJing a few smaller gigs, until eventually he met a promoter at an Eddie Halliway event in Bristol. He gave the promoter a demo mix and within a few days, the promoter called and offered to book him for a Gatecrasher tour in Wales for New Years Eve.
In 2009 he was picked up by Black Hole Recordings and began touring around the United Kingdom; performing at various venues and small shows. In 2010, while on a flight to play at PlanetLove at Shane's Castle, Northern Ireland, Suckley met Gareth Emery on his flight. They engaged in conversation in which Gareth Emery asked if Suckely would be interested in remixing a track from one of Emery's most popular albums Northern Lights. On 18 March 2011 the album was released entitled Northern Lights Re-Lit with remixes by acts including Suckley, Hardwell, Arty, Giuseppe Ottaviani, John O'Callaghan, Lange and Ashley Wallbridge.
The album, within hours of release, became No.1 on the US iTunes Dance Chart. On 28 February 2012, BBC Radio 1 announced that Suckley would be joining a new line up of DJs for the new In New DJs We Trust with B.Traits, Mosca and Julio Bashmore hosting shows on a four weekly rotation. This new schedule took effect on Monday, 2 April 2012. In April, 2013 Suckley collaborated with Simon Patterson to present their creation 'Vanilla', released on Spinnin's Reset Records. At the albums release, it garnered support from many music industry leaders and was rated in the top 5 of Beatport & Trackitdown charts.