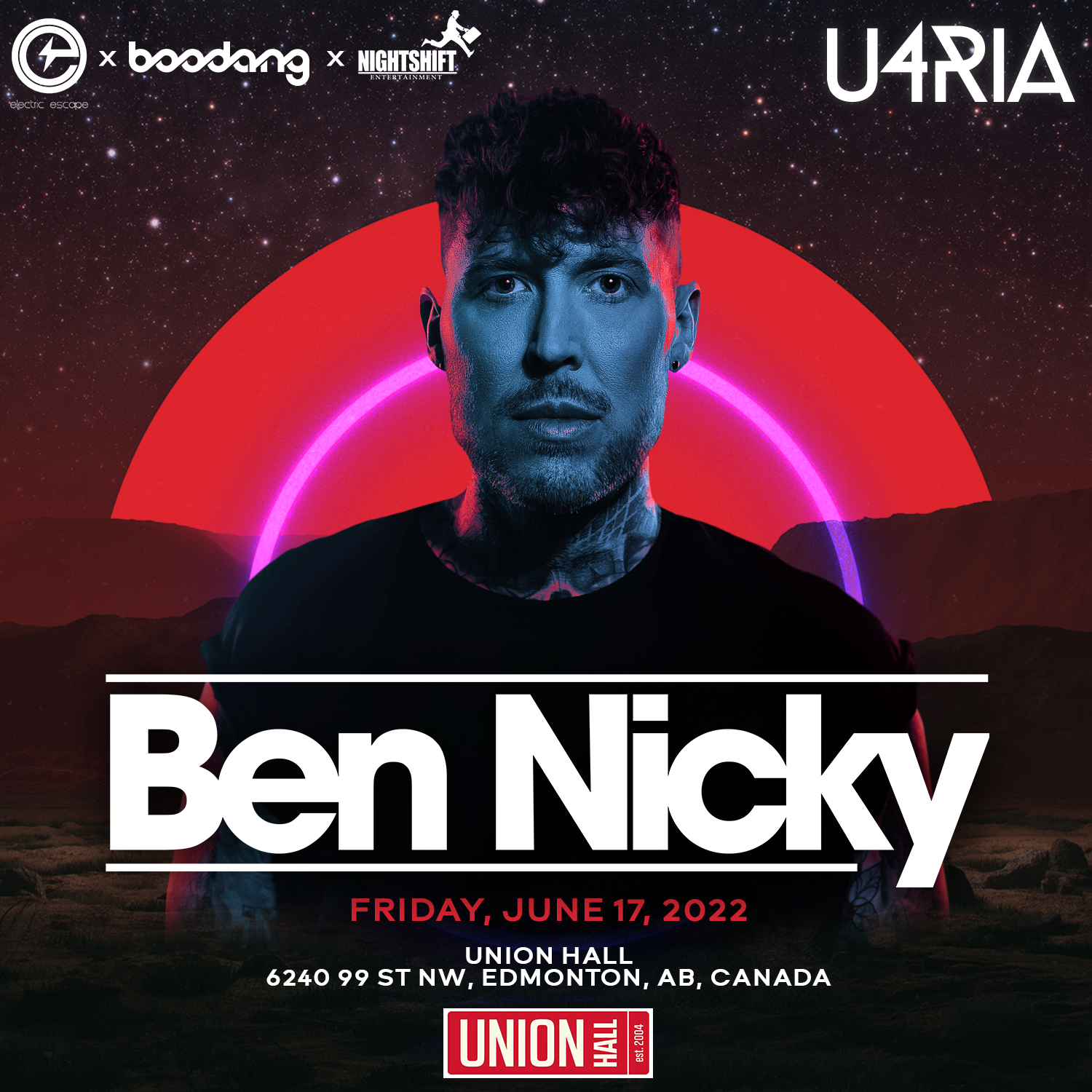 Ben Nicky- Edmonton

| | |
| --- | --- |
| | June 17, 2022 |
| | 9:00 pm |
| | Edmonton, Canada |
| | Union Hall |
| | Google Map |
Buy Tickets
Ben Nicky is without a shadow of a doubt the stand out, record-breaking star on the global dance scene. Having catapulted himself into the limelight to transcend well beyond his gen-re, tattooing his mark on the scene and outselling his peers to become one of the most sought-after globe trotting artists and online celebrities, with his social media interaction and viral videos second to none!
Ben's unique, yet recognisable brand is sported by waves of adoring fans at his shows worldwide has made him stand out from the pack and quickly become one of the worlds strongest selling dance music artists. Regularly selling out solo shows worldwide including iconic venues such as Marquee Sydney, Avalon Hollywood, Zouk Malaysia, Ministry of Sound London and the legendary SSE Arena & Custom House Square in Belfast. Not to mention performing at the usual prestigious worldwide festivals including EDC Vegas, Tomorrowland, Creamfields, Ultra Music Festival, Paradiso Festival, Spring Awakenings. Outselling many household names in new territories is part for the course with Ben now as he quickly continues his quest for even greater global success.
With one of busiest DJ schedules in the dance music world, it's clear to see why Ben Nicky's popularity has soared over recent years and why waves of new generations are flocking to his events. Ben's online social media presence and interaction skills have resulted in hun-dreds of millions of organic views across all platforms over the last two years, ensuring your timeline is constantly reminded of the power & global reach of the Ben Nicky brand. Ben was crowned 'Best Trance DJ' at the 21st edition of the DJ Awards at a ceremony in Ibiza, an accolade that was voted by fans worldwide.
Ben's well constructed, open format DJ sets keeps his audience locked in, fusing together well known classics with current drops and sounds in his unique Headf**k mashups, with plenty of twists and turns, yet making it very dance floor friendly, appealing to the masses and making each set a unique audio experience.
Ben's hit singles have been released on the biggest labels on the planet including Ultra, Spinnin', Mad Decent, Armada with chart topping genre crossing remixes for some of the worlds biggest names including Armin van Buuren, Audien, Diplo, Jauz, Paul van Dyk and Will Sparks. With tracks reaching number 1 on many download charts and supported across all key global radio shows and stations from BBC Radio 1 to Sirius XFM, his music is unstop-pable. Ben has had success breaking into the commercial charts on iTunes in the UK, plus his tracks feature regularly in the #1 spot on Beatport charts. This shows the true power of Ben's social media reach and huge dedicated fanbase.
Ben Nicky's online and offline entrepreneurial skills have pushed him into the upper eche-lons of world class DJs. If you've not yet been introduced to Ben Nicky's sound then you've got to ask yourself just one thing: why not?