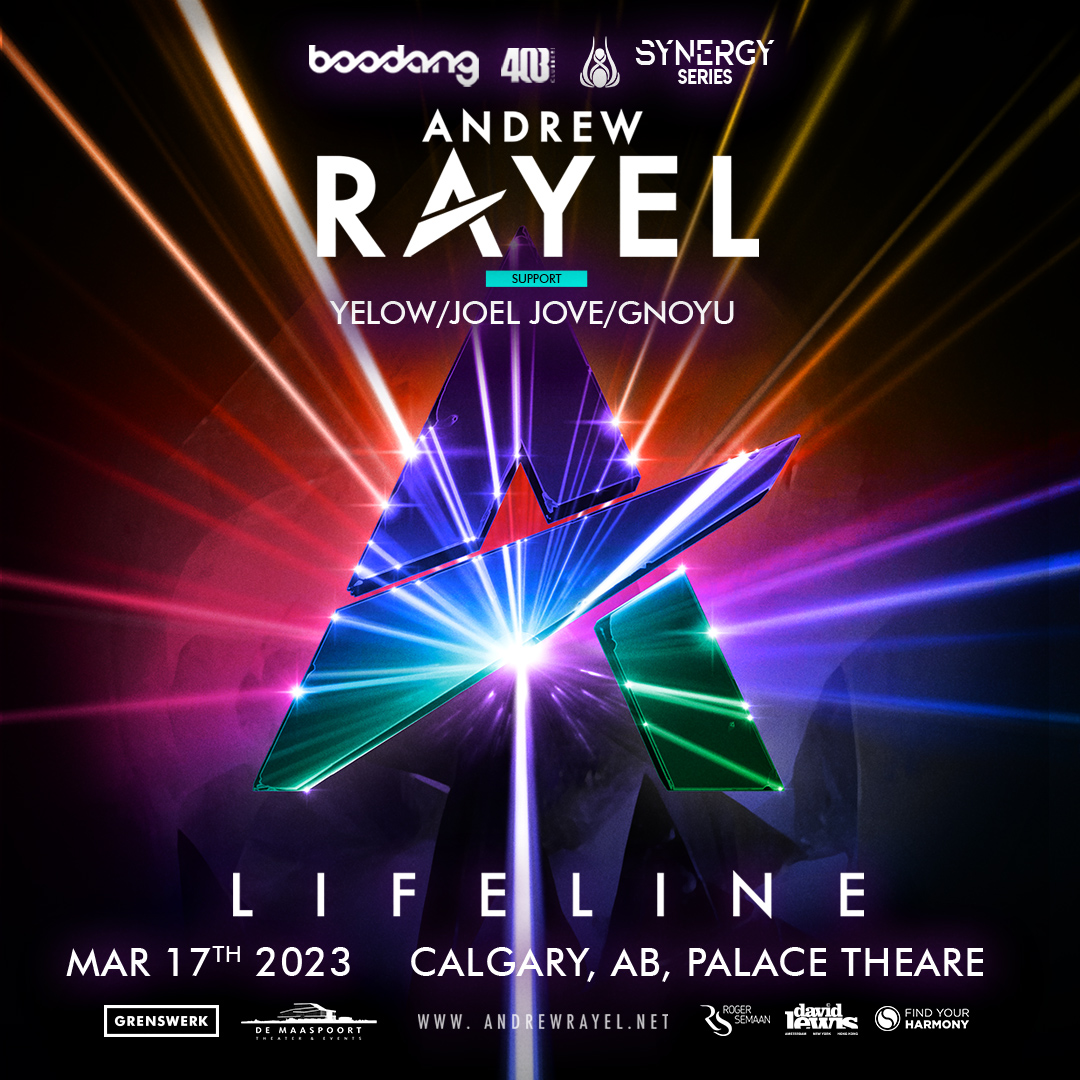 Andrew Rayel- Calgary

| | |
| --- | --- |
| | March 17, 2023 |
| | 9:00 pm |
| | Calgary, Canada |
| | The Palace Theatre |
| | Google Map |
Buy Tickets
He's the modern-day Mozart — today's leading talent in the ever-growing electronic dance music scene. He's the pride of Moldova, known for his unique and very own sound. He is Andrei Rata, better known as Andrew Rayel.
Born on July 21st, 1992, his young age never stopped him from taking the lead amongst the next generation of EDM producers. Developing strong musical skills, he studied orchestral music and kicked off his producing career at only 13 years of age. It didn't take long for the passionate music lover to translate his ideas into sounds. He created a truly unique sonic signature – one of piano power, harmonic balance, and euphoric tales. And so, years later, his originals and remixes are praised by many and loved by more. But, rest assured, the Andrew Rayel story has only just begun.
"Trance was the perfect solution, as it is a combination of melody, harmony and energy, elements that I prefer the most", says Andrew Rayel. Having Armin van Buuren supporting his tracks on the world famous A State of Trance radio show had always been a dream of Andrew. And sometimes, dreams come true. His tracks '550 Senta', 'How Do I Know' ft. Jano, 'Aeon Of Revenge', 'Once In A Lifetime Love', ' My Reflections', 'Horizon', 'I'll be there' , 'Dark Warrior' , 'One In A Million' and much more all made it to the show, often voted Tune of the Week and Future Favourite. The trance scene embraced Andrew's refreshing sound, giving him a very warm welcome.
His tracks found a solid home on the A State of Trance and Armind labels, both part of the Armada Music family. With such impressive originals, it didn't take long until the Rayel sound became hot property for remixes. And so, Andrew was lucky enough to take on remix duties for tracks by Armin van Buuren , Tiësto, W&W, Dash Berlin, and many more. Earning the support of the DJ elite, the Rayel sound has spread all across the globe, from underground clubs to mainstream festivals.
Though his career is fairly young, Andrew has already DJed the world's most legendary clubs and massive festivals. From Kazantip, Global Gathering, Creamfields, A State Of Trance , Trancefusion, Trancemission , Tomorrowland, Ultra Music Festival, Electric Daisy Carnivals, Ball En Blanc and much more.
Not to forget performing and selling out world wide venues such as New City Gas, Exchange LA, Marquee New York, Ruby Sky SanFransisco, Zouk Kuala Lumpur & Singapore, Colossium in Jakarta, not to forget the magical Island "Ibiza" in which he has performed at clubs such as Ushuaia Amnesia, & Privilege, and much more as well as earning a Las Vegas Residency at the age of 21 at Marquee Las Vegas.
As a result of his hard work and dedication, fans voted him to become one of the Top 100 DJS in the world, as well as breakout dj & producer and highest climber in the poll voting, along side many world wide nominations such as the IDMA (International Dance Music Awards) which is hosted yearly in Miami during Winter Music Conference week.
2014 was the year that saw the first ever artist album from Andrew Rayel entitled "Find Your Harmony" which has taken the world by storm alongside his sensation hit collaboration with Armin Van Buuren "EIFORYA".
Andrew Rayel is now an artist that has released 2 artists albums on his home label "Armada Music". in 2014 "Find Your Harmony" was released as the first ever artist album, followed up by "MOMENTS" in 2017 and establishing his own record label under the Armada umbrella in 2018 with "inHarmony Music"
The road to success has just begun and Andrew Rayel is ready to take on the world in the years ahead.
"I believe music is a universal language that unites people with nothing but love. I intend to make sure that my tracks are all about emotions and happiness. That's what's driving music, making the world a better place", says Andrew Rayel.