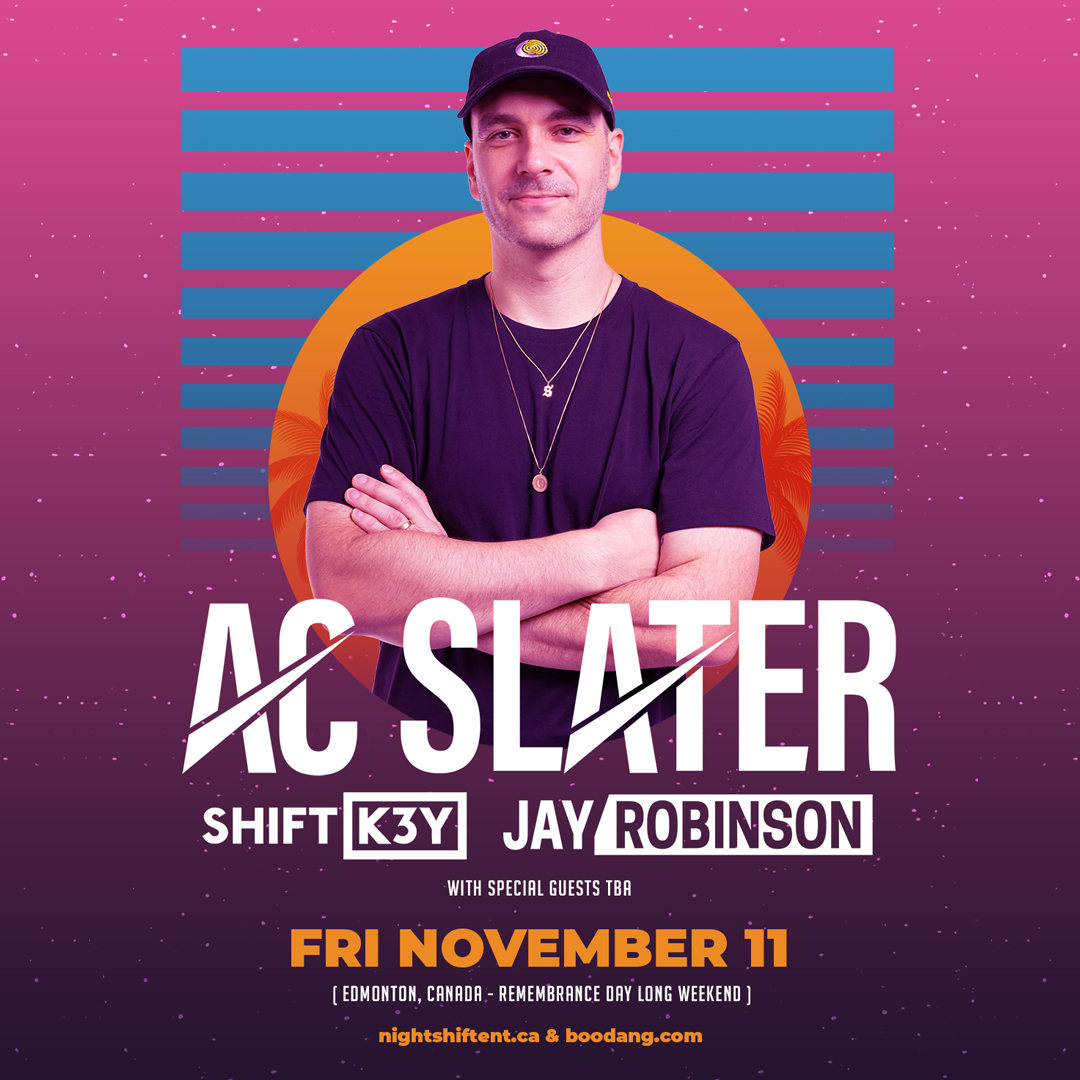 AC Slater- Edmonton

| | |
| --- | --- |
| | November 11, 2022 |
| | 9:00 pm |
| | Edmonton, Canada |
| | Union Hall |
| | Google Map |
Buy Tickets
AC Slater (aka Aaron Clevenger) has developed a huge following over his career with his signature "Night Bass" sound, which fuses the most infectious elements of house music with the dirty basslines of UK garage and sprinkles of old-school rave synths and breaks.
AC has grown Night Bass from a party into a record label and global brand. The label is a breeding ground for like-minded producers from around the world who are pioneering a new wave of bass-heavy dance music. Night Bass events, which started as a monthly at LA's Sound Nightclub, have since grown to include tours and festival stages, with AC bringing the Night Bass sound and ethos to cities all over the world via his carefully curated line-ups.
2017 saw AC drop his debut album 'Outsiders' to critical acclaim. He self released the work on Night Bass and after a 30 date US tour and international promo the album broke into the Global top 10 iTunes electronic chart — a testament to AC DIY nature.
2018 sees AC Slater booked back to back on a global tour which include his return to Coachella, EDC Vegas, Hard Summer, Holy Ship and Electric Zoo along with tours in Europe, Australia and Asia ( and even his Ibiza debut.) Over the summer he will also be rolling out his self curated 'Summer Phases' tour where Night Bass brand takes over various venues across N America.
AC Slater has stuck to his guns throughout his career and lets the music he creates do the talking. As he and Night Bass continue to constantly evolve and grow, make sure you join him for the ride!
AC Slater's career kicked off with a bang in 2008, when his seminal remix of Math Head's "Turn the Music Up" on Trouble & Bass instantly became a huge dance anthem. Moby listed it as one of the best 10 tracks of the decade, declaring it a "perfect song." It was followed by huge tracks like "Take You," "Calm Down," and "Big Brooklyn Bass," and his huge remixes for Crookers and Loudpvck. AC has collaborated with influential underground and mainstream artists including Nina Sky, Far East Movement, Ninjasonik, and Stanton Warriors, and has done official remixes for the likes of Big Sean, Moby, Robin S. and many more. A quick look at Slater's Beatport page reveals well over 100 tracks and remixes over the last five years, including his best-selling Jack Got Jacked EP, a blatant declaration of the invasion of house music by all things bass (and the start of a lengthy friendship with Jack Beats).